Ojibwa Finished Snowshoe
In stock
The Ojibwa Snowshoe is our favorite of all the shapes and styles we make. Its "nesting shape," along with its pointed tail and toe, encourage easy and efficient walking. Strongly preferred by Canadian and US snowshoe and winter guides, this design is considered by many to be the best fit for beginners as well as for general day trips and serious winter trekking.

The Ojibwa's wide dimensions provide a stable platform for snowshoeing, while the pointed tail helps weave through brush and woodland for snag-free walking in wooded areas. It's also perfect for trekking through deep snow or ice fishing on frozen lakes.
Shipping & Wholesale

Shipping

Free domestic shipping on large products to all residents of the lower 48 states. Small products ship USPS for a flat $9 rate. International shipping has additional fees.

Wholesale

Interested in wholesale opportunites? Contact Us!
Ojibwa Snowshoe Sizing
Roughly match snowshoe size to your body weight plus the weight of any pack.

As a rule, smaller shoes are easier to walk on. If close to a size break, choose larger shoes if you have long legs, wear a hefty pack, regularly break trail or have light, fluffy snow.

Choose smaller shoes for shorter legs, denser snow or packed trails (even if new snow covers the old tracks).
​
For Ojibwa Models


YOUTH

9" x 36"

Age 6 to about 120#

320 Sq. in.
Explore the Ojibwa Finished Snowshoe Features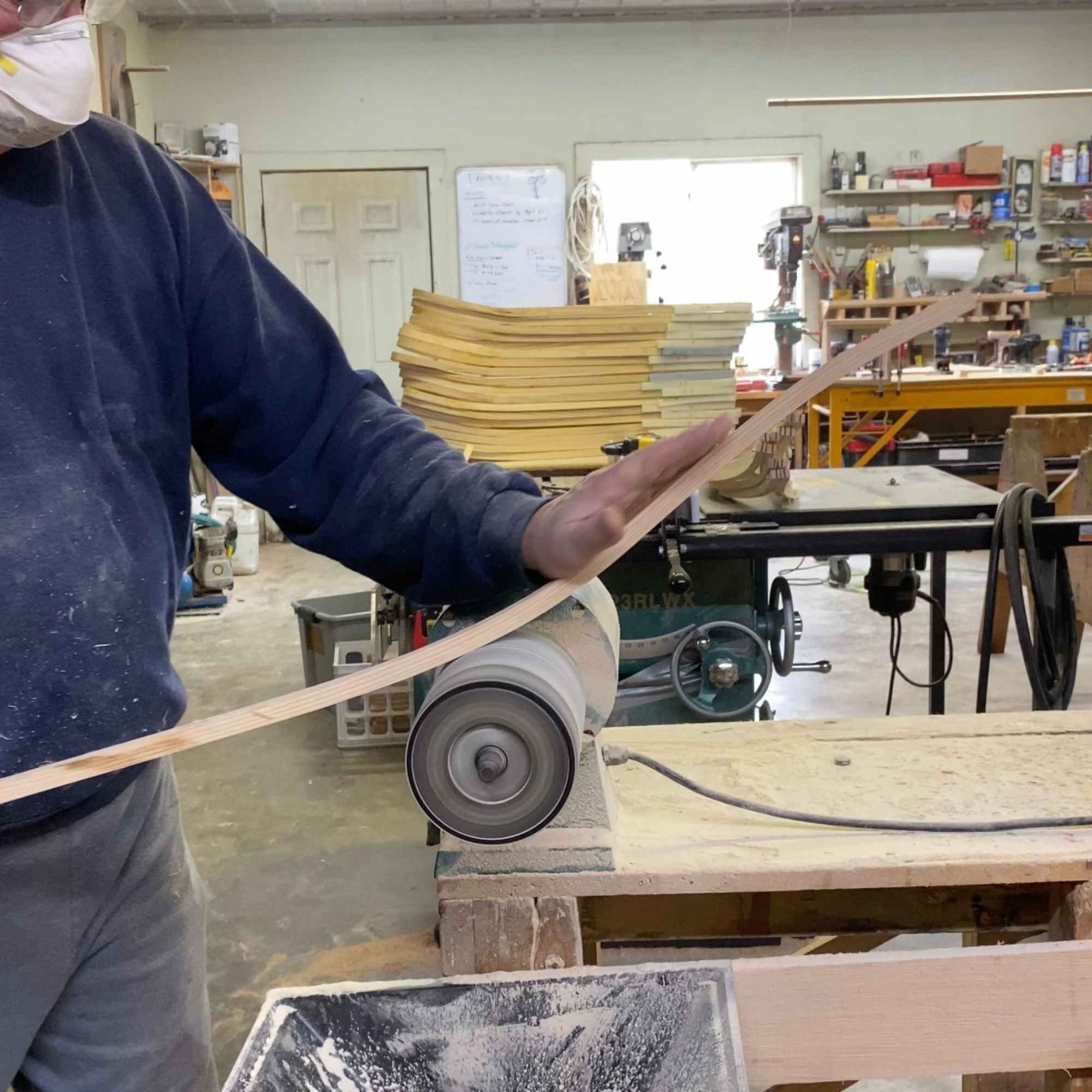 First, we start with rough-sawn ash boards and machine the wood (rip, cut, joint) to create the frame components of your snowshoes before bending and assembling them into their final form.
The bending process begins with a boiler-style steam box and snowshoe jigs or forms. The parts are then removed from the forms and placed into 'dry jigs' to set. Snowshoe frame assembly starts with removing the dry jigs and processing them one shoe at a time as they are routed, sanded, and riveted into completed frames.
Finishing a pair of snowshoes begins with preparing each wooden frame for lacing. The lacing used is tubular nylon and is both strong and durable. We have talented local lacers that we rely on to make our lacing patterns at the level of quality that meets our high standards.
After the laced snowshoes have been inspected, we proceed with the final steps. Snowshoes are dipped in a clear coat of exterior polyurethane varnish, allowing the excess to drip off and dry overnight. The lacing tabs are trimmed after the first dip, and this process is repeated three times to achieve the mill thickness required for a lifetime of protection.