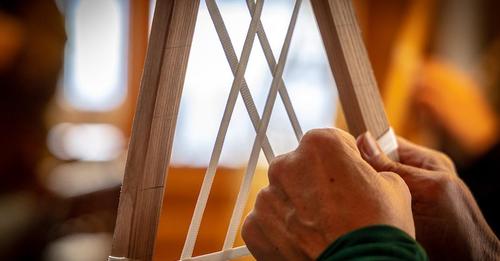 Alaskan Snowshoe Kit
In stock
Similar to a large Ojibwa snowshoe in general shape and function, the Alaskan's upturned toe, large surface area, and sleek profile excel at covering open trail distances through any depth of snow. These are excellent snowshoe for large people, for carrying large packs, and for those who prefer the classic frontiersman style.
Shipping & Wholesale

Shipping

Free domestic shipping on large products to all residents of the lower 48 states. Small products ship USPS for a flat $9 rate. International shipping has additional fees.

Wholesale

Interested in wholesale opportunites? Contact Us!
Alaskan Snowshoe Sizing
Roughly match snowshoe size to your body weight plus the weight of any pack.
As a rule, smaller shoes are easier to walk on. If close to a size break, choose larger shoes if you have long legs, wear a hefty pack, regularly break trail or have light, fluffy snow.
Choose smaller shoes for shorter legs, denser snow or packed trails (even if new snow covers the old tracks).
For Alaskan Models